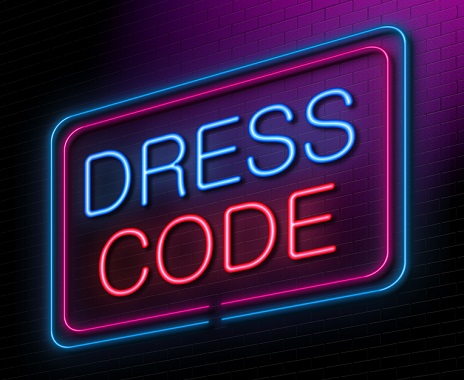 special to The Digital Devil by Journalism I student Dylan Mather (9)
A few Tuesday mornings ago, Assistant Principal Christy Smith announced for all homeroom teachers to double check their students for dress code issues. Over the intercom, Mrs. Smith said that she and other administrators had seen an increase of violations, now that spring weather had begun.
Dress codes are a hot topic here in Owensboro because many students want to express themselves with their clothing. Most area schools legislate student attire via a dress code, not official uniforms. According to the most recent data, only 21% of public schools wore uniforms,
according to the U.S Department of Education.
Locally, only Owensboro Catholic requires that students wear uniforms.
Radley Worth remembers the day that he got dress coded by his homeroom teacher, Mr. Madej. He recalls that he had to stick a piece of paper underneath his jean shorts because they had a small rip. "[It was not fair] because it was just a tiny little rip," said Worth.
Opinions on the dress code are diverse because some people support them while others want to wear whatever they choose. Junior Clayton Rhoads says that he is in the middle ground.
"I think it's useless but I don't want people to come to school nude," said Clayton. "I think they should be able to show shoulders, it's too strict. But at least it's not like Catholic where they wear uniforms."
According to the OHS handbook, a dress code violation is an offense where shorts are shorter than finger-tip length, shoulders are shown, holes in pants above the knee or there is profanity or vulgarity on an item etc.
Rhoads and Worth both said that they believe there is some stupidity in the dress code. Assistant Principal K.O. Lewis did not reply to our inquiry in time for the article.
Warmer weather does not always mean fewer clothes, a precedent that Owensboro High School is nipping in the bud.