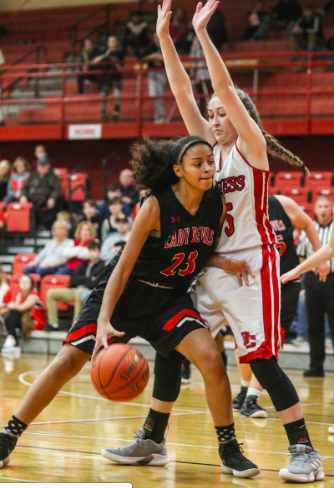 The Lady Devils faced off against the Lady Panthers Friday night at Daviess Co. to a full and animated crowd. The Lady Devils defeated the Panthers 67-49 away.
The team was led by Senior Tayonna Greer and Junior Mykeal Winstead. Greer had 12 points and 6 rebounds, while Winstead had 20 points, 10 rebounds, and 7 steals.
The lady devils went on a 10-0 run in the last 2 minutes of the first quarter to give them a 21-10 advantage. The Lady Panthers pushed back, but fell short in the first half with the Devils finishing the half at 38-26.
The Lady Devils at one point in the second half pushed their lead to 26 points due to Tayonna Greer hitting two 3-pointers and Amaya Curry (Fr) hitting another.
"We didn't give up and kept fighting the whole game through. We proved that our whole team is able to produce."- Tayonna Greer