Surprise Guest at Musgraves Makes it Night of a Lifetime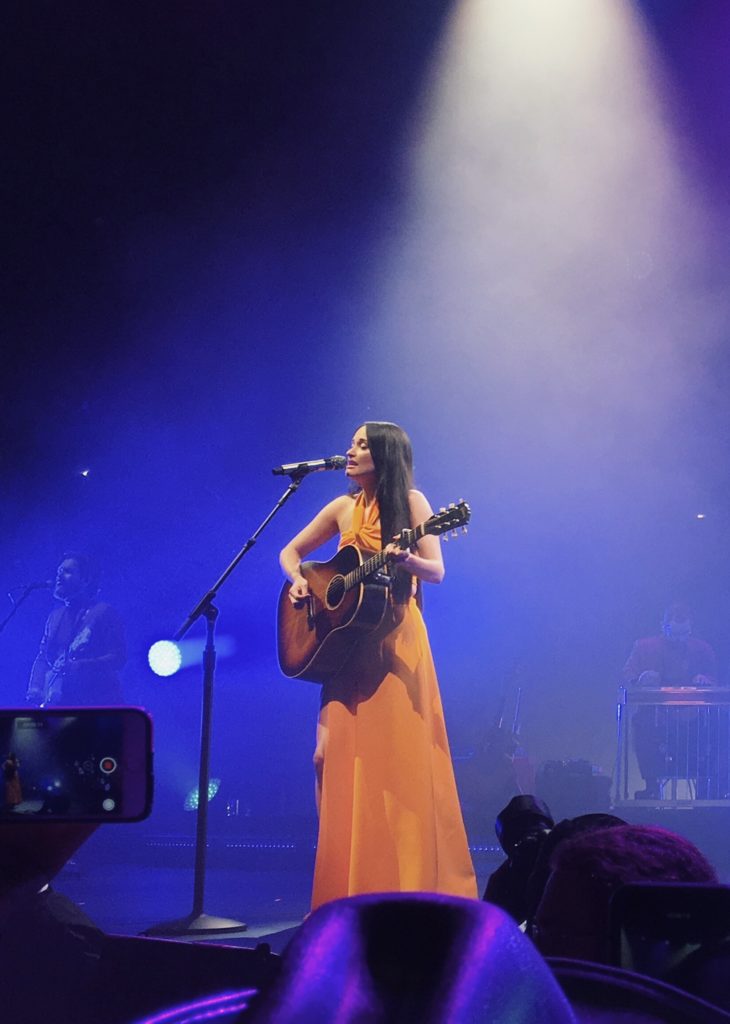 On October 25th I went to a Kacey Musgraves concert in Nashville, TN. The tickets were cheap compared to most concerts, and as she is one of my favorite artists, I decided I'd make it worth while and get pit tickets. I've only been in the nosebleed section for every concert I've been to, so I thought I should have the time of my life.

Doors opened at 6pm and we got there around 6:30. My friend and I thought we weren't going to have great pit seats, but to our surprise, we got second row to the right of the stage. I had never been luckier in my life.

Although it was another hour until the concert started, we got news that made time pass by fast. While scrolling through Twitter looking for a set list, I found information that changed that night forever. Harry Styles had been reported backstage in the Bridgestone Arena. After receiving the news that my absolute favorite artist was going to be a special guest on stage, I began to freak out. To think that I was going to see my favorite artist six feet away from me was insane.

Fast forward to 7:45pm. The opening acts Yola and Maggie Rogers begin to perform. Yola had an impressive voice, while Maggie Rogers had an outstanding stage presence. I have to say I enjoyed Rogers much more because she was energetic and interacted with the entire crowd.

After an already long night, Kacey Musgraves arrived on stage singing "Slow Burn" around 9:45. As soon as the show started her outfit and stage lighting emitted 70's vibes. She sang all of the songs off her Grammy winning album, Golden Hour and three more songs from her past albums Same Trailer Different Park and Pageant Material. My favorite song she performed was "Velvet Elvis".

Although the focus of the concert was the music, everyone in the pit and Kacey herself couldn't help but comment on the mysterious aroma of weed around us.

Towards the end of the concert she performed Space Cowboy, but stopped in the middle. All the lights went out. The next thing I knew, Harry Styles appeared singing the song along with Kacey. The crowd went wild, me most likely being the loudest. I had never been more starstruck in my life, and it was obvious I couldn't contain myself.

After he finished the song, he gave a speech about how much he adored Kacey and her fans. The entire two minutes he was on stage was a blur to me, but I do remember him screaming "YEEHAW" right before disappearing.

The remaining 30 minutes I danced, laughed, and sang my lungs out. It was probably one of the best experiences of my life. She ended the concert with "High Horse", one of her most well-known songs.

Even though we got drenched as soon as we walked out of the arena, I was still happier than I have ever been. The rain may have ruined the night for many, but for me it made it even better, it almost felt freeing.

Musgraves gave multiple speeches about doing what makes you happy and freeing yourself during your hardest times. I took these words to heart and will remember them for years to come.

We did something out of our comfort zone, being in the pit, and it ended up being well worth it. It was an experience I will never forget because I saw one of my favorite artists up close and surprising saw my favorite artist six feet away from me. Always take risks, because it could become something that you never imagined.