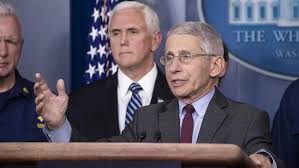 Since mid-March, the internet and news cycles have been flooded with seemingly nothing but Coronavirus related information. As the world continues to be under lockdown to slow the spread of COVID-19, this information is basically unavoidable. Unfortunately, much of the COVID-19 related news is inaccurate, misleading, or blatantly false. So, how does one separate the noise from the truth? To help answer that question, below is a list of various major sources of coronavirus information, some of which should be taken seriously, and some of which should be ignored.

*Most people who know me are aware that I lean slightly to the left of things, so I naturally see things through that lens. However, I have tried to make fair, balanced judgements on each of these major sources, and it is my hope that my advice is taken at face value without too much political animosity.*
Who to Trust:

Dr. Deborah L. Birx: Dr. Birx is a member of President Trump's coronavirus task force. She has a career dedicated to combating the spread of HIV/AIDS, and has served as a representative for Global Health Diplomacy. She is a medical expert, and her extensive work with mitigating HIV proves that she should be taken seriously.

Dr. Anthony Fauci: Dr. Fauci is a medical expert who has headed the National Institute for Allergy and Infectious Diseases since 1984. He also worked extensively to combat HIV/AIDS under the Reagan administration. Dr. Fauci is a member of President Trump's coronavirus task force, and is often the voice of science and reason at the daily briefings.

Governor Andy Beshear (and company): Governor Beshear has a daily briefing at 4pm CT. In these briefings, he gives the latest coronavirus news, case count, and death toll. Assisted by medical experts, Governor Beshear gives factual information and emphasizes the importance of social distancing. If it were not for the early and extensive steps that Beshear took in mid-March, the coronavirus situation in KY could have potentially been much more lethal. Any questions regarding the severity of COVID-19 in KY, or steps going forward are frequently answered by the Governor, and his science-based approach is an absolute necessity in the midst of this crisis.

Governor Andrew Cuomo: New York is currently the epicenter of COVID-19. Governor Cuomo has made national headlines frequently for his leadership in the hardest hit part of the United States. Similar to Governor Beshear, Cuomo has taken a scientific and strict approach to containing the virus as it ravages New York City. Should the situation here in Kentucky escalate, it would be wise to follow a similar strategy as the one utilized by Governor Cuomo.

Medical Experts: It is no question that healthcare workers are on the frontlines of this crisis. Medical professionals have the most accurate evaluations of coronavirus, and any advice doctors or other medical experts recommend should be followed.

Who NOT to Trust:

The President of the United States: Although some of President Trump's actions towards coronavirus have been beneficial, such as restricting travel and setting reasonable reopening parameters for governors, his words tell a different story. Focused solely on rhetoric, President Trump has been a mouthpiece for unscientific statements, conspiracy theories, and divisive attacks. From his largely unfounded praise of hydroxychloroquine as a cure for coronavirus, to his tweets encouraging dangerous protests, Trump has proven himself to be, at the very least, an unreliable narrator during this crisis. Regardless of what your opinion is of President Trump, his comments should be taken with skepticism; listen to the doctors.

Hyper-Partisan Pundits: Some ultra-conservative pundits such as Rush Limbaugh falsely claim that COVID-19 is identical to the common cold. Others, like Alex Jones, push snake oil cures. On the other side of things, some hyper-liberal platforms frame the narrative as if President Trump himself created the coronavirus. For accurate, scientific information, one should seek more moderate platforms that minimally politicize the virus.

Random People Online: The internet is a wonderful tool for education and connecting the world. It is also the largest breeding ground of stupidity known to man. It should not have to be said, but do not pay attention to some guy's Instagram story claiming that 5g creates the coronavirus and Bill Gates is behind it all. Just don't.
In times like these, it is of utmost importance to be guided by the facts. Be cautious not to fall prey to the plethora of misinformation that is out there. Stay safe, stay home, and keep the science in mind.