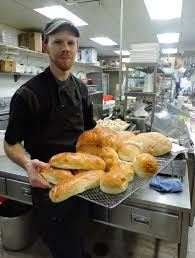 Owensboro has its fair share of mom and pop businesses, ranging from drugstores to high-end bistros. Each one has its own unique atmosphere, and residents of small towns like our own tend to think that chain corporations cannot replicate the sincerity and simplicity that local businesses strive to provide in their services. There will soon be a new addition to the community's ensemble of small businesses, as Niko's Italian Cuisine on Highway 54 is expanding its horizons and opening a bakery.
This bakery will not be an establishment where you could find a generic Cars 3 sheet cake for your nephew's 6th birthday party. All of the goods seen in the display case will be made from scratch on the premises. However, if your nephew would rather have traditional ekmek or elegant cheesecake catered for his party, then Niko's Bakery and Café is the right place to go. According to Matt Weafer, the head honcho of this operation, "We will be making a variety of European and Greek baked goods, breads, breakfast, lunch, snacks, salads, desserts, espresso drinks, and pastries. We'll have traditional sourdough bread, hand-made croissants, macarons, and much more."
They're hoping to open the bakery's doors by late November—just in time for Thanksgiving. With their array of casseroles and dinner foods like spanakopita, a pie-like dish made with spinach and feta cheese, they could attract the attention of families who either don't have the time to cook for the holiday or who just want to add a new element to their Thanksgiving dinner.
The bakery will be located on 601 Emory Dr. in Wesleyan Park Plaza, which is only a three-minute car ride down Frederica from Owensboro High School, so it will be easily accessible for students before or after school. "The bakery will be a perfect spot for students to grab a quick and healthy breakfast or snack," Weafer said. "We'll have a drive through pick up window so customers can call their order in advance and swing by the drive through to pick it up. We'll have a lot of quick and convenient grab and go snacks and lunches, too."
No matter the food's taste and obtainability, price will always be of a customer's concern. Weafer and his team are working to make sure that their products will be as inexpensive as possible while also maintaining their quality. "Prices will vary a lot as we will have a wide variety of items. But we will offer affordable breakfasts, snacks, lunches, and coffees. Many of our prices aren't set yet as we're still in early menu planning process," Weafer said.