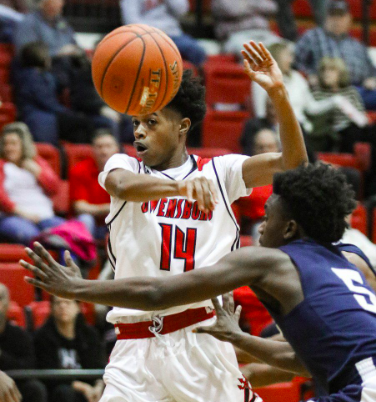 Picture from the Messenger Inquire.
Anticipation was high as the Owensboro boys basketball team prepared to play the Warren Central Tigers, a team that beat Apollo High School 84-45.
The Devils fought hard throughout the entire game, mostly keeping up with the attacking power of Warren Central. Owensboro trailed close behind in the first half, ending the first quarter 12-10 and the half at 37-31.
The game turned around in the third quarter with the devils gaining the lead at 59-58. They pushed hard against the Dragons, and it really paid off. When asked about this comeback, Junior Isaac Humphrey said, "Our intensity picked up and we put a lot of pressure on their guards."
However, things slowed down in the final quarter, as Warren Central consistently attacked the basket. They went on a 15-0 run to pull away from OHS. The game ended 81-68.
On the game, Senior Darrion Wimsatt scored a total of 20 points and 5 assists. Junior Isaac Humphrey scored 17 points along with 7 rebounds. Finally, junior Jaiden Greathouse ended the game with 15 points and 8 rebounds.
The team played well against a very prominent team. Even though they lost, a lot of experience was gained from playing aggressively against a team like Warren Central. Owensboro will play next on Friday, December 7th against Daviess County. This is a rivalry game, and the Devils hope to prove themselves within the district.