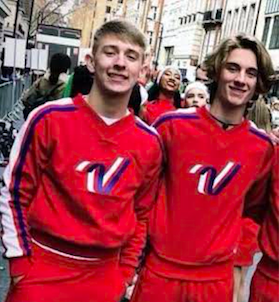 In December, Andrew Chancellor (11) travelled to London, England to participate in the annual New Years Day Parade. He travelled with other All-American cheerleaders to perform alongside 10,000 performers in front of a street side audience and television viewers.
How were you chosen to be an All-American? This past summer, I attended a UCA camp and was nominated by the staff. When I went on the mat I did a co-ed stunt, a chant, and a cheer.
What made you want to travel to London? I decided to go to London because it's a once in a lifetime opportunity, so I felt like this was the best time to go because I may not get the chance later in my life.
What did you do while you were in London? While I was in London, I toured the old city, went to Buckingham Palace, Windsor Castle, rode the London Eye and saw the Crown Jewels. On our last day, we (All-American cheerleaders) were in the New Years Day Parade.
How was life in London different from life in the US? The people in London are really rude and don't seem to have any manners. Also, the food is served without sugar and they don't have ranch dressing.
Why was it held in London? The New Years Day Parade first took place in 1987, as the Lord Mayor of Westminister's Big Parade. The parade was later renamed and still goes on to this day.
What do you plan to do in the future with your cheer career? In the future, I'd really like to go to a large division 1 school with a good cheer program. I'd like to go to the school that gives me the best scholarship and later maybe even continue my career with UCA or Varsity Spirit.